Avenue hosted the 'Centara Summer Splash', a white water rafting race at The Lee Valley Olympic Park in conjunction with Tourism Authority of Thailand.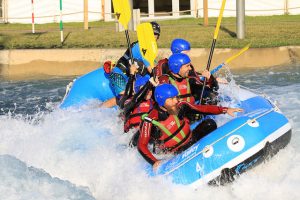 Participants (now thoroughly dry) included Trailfinders, Flight Centre, The Lotus Group, Travelbag , Western and Oriental, Kenwood Travel, Tropical Sky, Etihad and Thai International.
Taylor Oliver, Destination Executive at Hayes and Jarvis commented,
"At first challenging and exhausting, getting to grips with rafting is not the easiest thing! However it did in fact turn out to be the most exciting and exhilarating days I have ever experienced! Surrounded by a great group of people and fantastic hosts, the whole event was full of laughter and enjoyment, which made the day an absolutely success! I hope to be invited back next year!"
As you can see we had a splashing time! The winning rafters won champagne and Centara gifts.