Last week we were joined by Centara Hotels & Resorts' Paul Wilson, Vice President of Sales and Jamie Crisp, Area Director of Sales. So we travelled the length and breath of UK and dropped in on our key travel trade partners.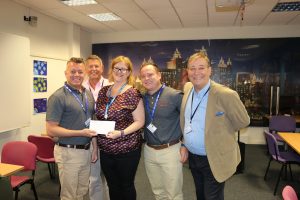 During a training session at Gold Medal Travel in Preston, Gail Francis from Trade East Reservations, who displayed an excellent understanding of the brand, was the lucky winner of Centara's product knowledge quiz.
She won stays at Centara Grand at CentralWorld Bangkok, Centara Grand Beach Resort & Villas Krabi and Centara Grand Beach Resort Phuket complete with with 2 tickets to Bangkok, Krabi and Phuket courtesy of Thai Airways, and transfers from Destination Asia. We hope she'll have a trip to remember!