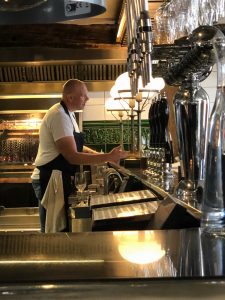 Simon and Bruno hosted lunch and dinner with Tom Kerridge this week for the launch of his latest creation: LUSH Hospitality. Over 50 top agents attended at Tom's Michelin star pub The Coach in Marlow including Sodexo, Zibrant and Blue Lime Solutions.
Guests were spoilt with culinary delights such as Smoked Paprika Pork Puffs, Treacle Cured Fillet of Beef and Tonka Bean Panna Cotta. Client Services Director at Sledge commented, "it was absolutely fabulous and I will certainly be recommending LUSH to all clients and working on those bookings."
Tom was there to greet guests and tell them all about the company's emphasis on bold flavours, best ingredients and warm hospitality. For more information on LUSH Hospitality just contact simonj@www.avenuesales.co.uk.