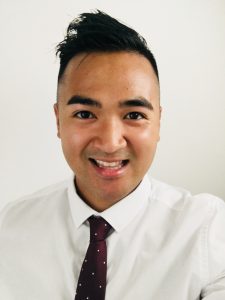 Welcome to Dan Van Vo, who joins the Avenue team as Leisure Sales Manager, having previously worked at Kenwood Travel and Virgin Holidays.
He has fantastic product knowledge and will primarily head up our Centara account. He's already out and about running product training- here's a video snippet.
Keep your eyes peeled for his next FAM trip. And feel free to say hi or contact Dan with any questions on danvo@chr.co.th
INTERVIEW WITH DAN

Welcome Dan! Here's a quick fire round to get us started…
Black or white? Black
Night owl or morning lark? Night owl
Sweet or salty popcorn? Salty
BBC R1 or BBC R2? Radio 1
Instagram or twitter? Insta
Peaky B or GOT? GOT
Koh Samui or Bangkok? Koh Samui
Andriod or Iphone? Iphone
Nike or Adidas? Nike
Bike or tube? Bike- a motorbike. Only problem is the helmet hair!
Great! Now for the serious questions… 
Tipple of choice?
Gin and tonic
Favourite hang out out?
The Flying Horse, Shoreditch. I love the old carpet and run-down feel.
3 things you'd take to a deserted island?
Ipad, football and….erm, I'm not sure! Oh, can I say my wife?
Surprising fact about you?
I met Nelson Mandela when I was 13. He came to my school and encouraged us to complete our education and no matter how hard the struggle is in life, work through it.
Where's your favourite place in the world?
Home: London. There's no place like London; beautiful people, beautiful places. I love it here!
Where else would you love to go in the world?
South Africa; particularly Capetown and on safari. Simon's working on a project there so I hope to go in the future. Vicki my wife has been there loads and speaks very highly of it.
Besides travel what are your passions in life?
Sports of any kind. I spend a lot of time playing football and follow Tottenham Hotspur (for my sins!) Not a lot of people know that I studied drama to A-level and love the theatre- Book of Moorman and Miss Saigon are particular favourites.
Funny work story?
I once left it pretty late to check in on a FAM trip to Singapore and had to run the entire length of Heathrow terminal 2 only to find out the flight was delayed. I felt sorry for the person sitting next to me for 13 hours! Then when I arrived in Singapore the organisers had no record of me, only my colleague 'Deepak'. So I spent three days as somebody else!
What are you most looking forward to about working for Avenue?
The reason I went for the position at Avenue is to work alongside Ian.He's an industry legend; everyone knows and respects him and I have so much to learn from him. I'm happy to have him as a mentor.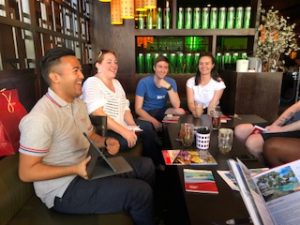 Dan training Flight Centre staff last week