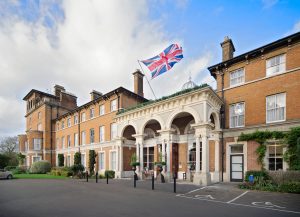 The health and the wellbeing of our guests, our staff and our community is of the
utmost importance to us. Following a 4-month closure period, we plan to safely
welcome back guests to Oatlands Park Hotel from the 6th of July 2020.
To reassure our guests, we would like to highlight the measures that are in place in
our hotel to ensure the highest standard of hygiene, and also what you can look
forward to from a stay with us during the Covid-19 period.
Our cleaning & safety measures include, but are not limited to:
BEDROOMS • RESTAURANT • BAR • MEETINGS • EVENTS • WEDDINGS
COVID-19 CLEANING & SAFETY MEASURES
Please note: Oatlands Park Hotel reserves the right to refuse entry and or cancel
reservation if the guest displays such symptoms on arrival for the security and
protection of its guests and team members.
CHECK IN & PUBLIC AREAS
•We have enhanced our cleaning measures in conjunction with our chemicalprovider within our public areas, hotel lobby and public bathrooms. This includesanti-virual cleaning solutions on high-touch point areas, such as doors, lifts andhandrails.•On arrival we ask that all our guests wash their hands and use the hand sanitizerthat is provided by the front door.•Our Reception Desk is fitted with a perspex screen and our team are equippedwith gloves and face coverings.•Please help us by paying with contactless card payments. PDQ machines will bewiped down with a disinfectant wipe after each use.•Hand sanitizer stations can be found in key areas around the hotel, withdisinfectant wipes located by the lifts and staircases.•Signage is in place for everyone to maintain 2 meters distance within the publicarea, lobby and corridors. Lifts can only be used by 1 person at a time.
BEDROOMS
•Room key cards will be wiped down with a disinfectant wipe after each use.•No access will be made to bedrooms during a guest stay. Housekeeping orMaintenance will only enter the bedroom on request. If a member of staff needs toenter a room, they will wear PPE and the guest will be asked to leave the room.•Housekeepers have been re-trained and there is an added an extra level of focuson "high-touch, deep clean" areas, which includes light switches, door handles, TVremotes and thermostats.•Laundry is washed at high temperatures advised by our laundry company.•Toiletries are brand-new and sealed within each room.•We have removed paper amenities and pens including the guest directory. Onrequest, guests can access a digital alternative, or be supplied with physical items.
For more information visit www.oatlandsparkhotel.com
RESTAURANT & BAR
•While our restaurant and bar remain closed, we will be serving all meals as in-room dining.•Our usual breakfast buffet will be replaced by a continental breakfast delivered to the comfort of your room.•We are looking to make the most of our 10 acre estate by offering take-away drinks, lunches, dinners and Afternoon Tea to be enjoyed within our designed picnic area and gardens. (Please note: This service is planed for August).LEISURE FACILITIES•We have closed our hotel fitness centre for now andinstead we are offering running/walking maps of ourestate, so you can enjoy the fresh countryside air.•We have plenty of free car parking and bike racksavailable to our guests and our staff, this helps toreduce the need for public transport when travelingto the hotel.
OUR STAFF
• All team members have completed 6 modules of the Covid-19 Re-opening
Training in conjunction with Flow Hospitality. This includes the recertification of
H&S Levels 1& 2, Food Safety Levels 1& 2.
• Staff will have their temperatures checked before they come back to work. They
will be required to know where the nearest hand sanitiser stations are at all times
and ensure uniforms are not worn during travel to and from work.
• Guest-facing staff will be provided with PPE and enhanced training designed to
protect their well-being.
• Staff have been advised of the no-handshake policy.
• All Staff will be asked in advance to complete a coronavirus risk disclosure form
confirming they have not been in any affected regions within the last 14 days.
CONFERENCE, EVENTS & WEDDINGS
Our 12 meeting rooms remain closed at the moment until we have further guidance
on gatherings.
CANCELLATION POLICY
We have a cancellation policy 24 hours before your stay, so please keep this in
mind should you wish to cancel or amend your booking.
As a recommendation, any guest who is displaying the following symptoms a;
Cough, Fever, Breathlessness, Sore Throat, Headaches, should follow the NHS
guidelines and we kindly ask that you reschedule your visit/ stay with us and where
possible adhere to the 24-hour cancellation policy, until you and your household
members have been cleared of symptoms by 14 days.
Oatlands Park Hotel reserves the right to refuse entry and or cancel reservation if
the guest displays such symptoms on arrival
Thank you for your support and understanding.